Download pdf AEAAC Face It: Sponsorship and Exhibitor Package
Alberta Seniors and Housing and the Alberta Elder Abuse Awareness Council (AEAAC) are proud to invite your organization to support the FACE IT: Elder Abuse Happens – Community of Practice, Taking Action Conference to be held at the River Cree Resort and Casino in Edmonton, Alberta.
Evening Trade Show April 30, 2018
Conference Sessions May 1 – May 2, 2018
About Face It: Elder Abuse Happens Conference
FACE IT: Elder Abuse Happens – Community of Practice, Taking Action Conference offers a pre-conference session and a 2-day conference which provides unique opportunities for sponsors to engage with professionals in the fields of health services, police services, social services, government, and a variety other organizations and agencies.
In 2018, 200+ delegates are expected to participate in the conference. Your sponsorship will demonstrate your organization's commitment to creating awareness and supporting a community response to reducing the occurrence of elder abuse.
Sponsorship supports knowledge sharing and increased awareness of the many forms of elder abuse such as: financial abuse, physical abuse, social/emotional abuse, sexual abuse, neglect, and medication abuse.
Overall Sponsorship Benefits:
• Opportunity to demonstrate the role your organization plays in supporting elder abuse awareness.
• As a sponsor your organization will have the opportunity to engage with your target audience and to have face time to discuss emerging issues and trends in elder abuse.
• Opportunity to support a vibrant learning environment for professionals working in the field of elder abuse.
• Build relationships with leaders in the field of elder abuse and key organizations playing a pivotal role in awareness and community support.
Please contact Janet Schimmel for questions 403.809.3508 or email This email address is being protected from spambots. You need JavaScript enabled to view it.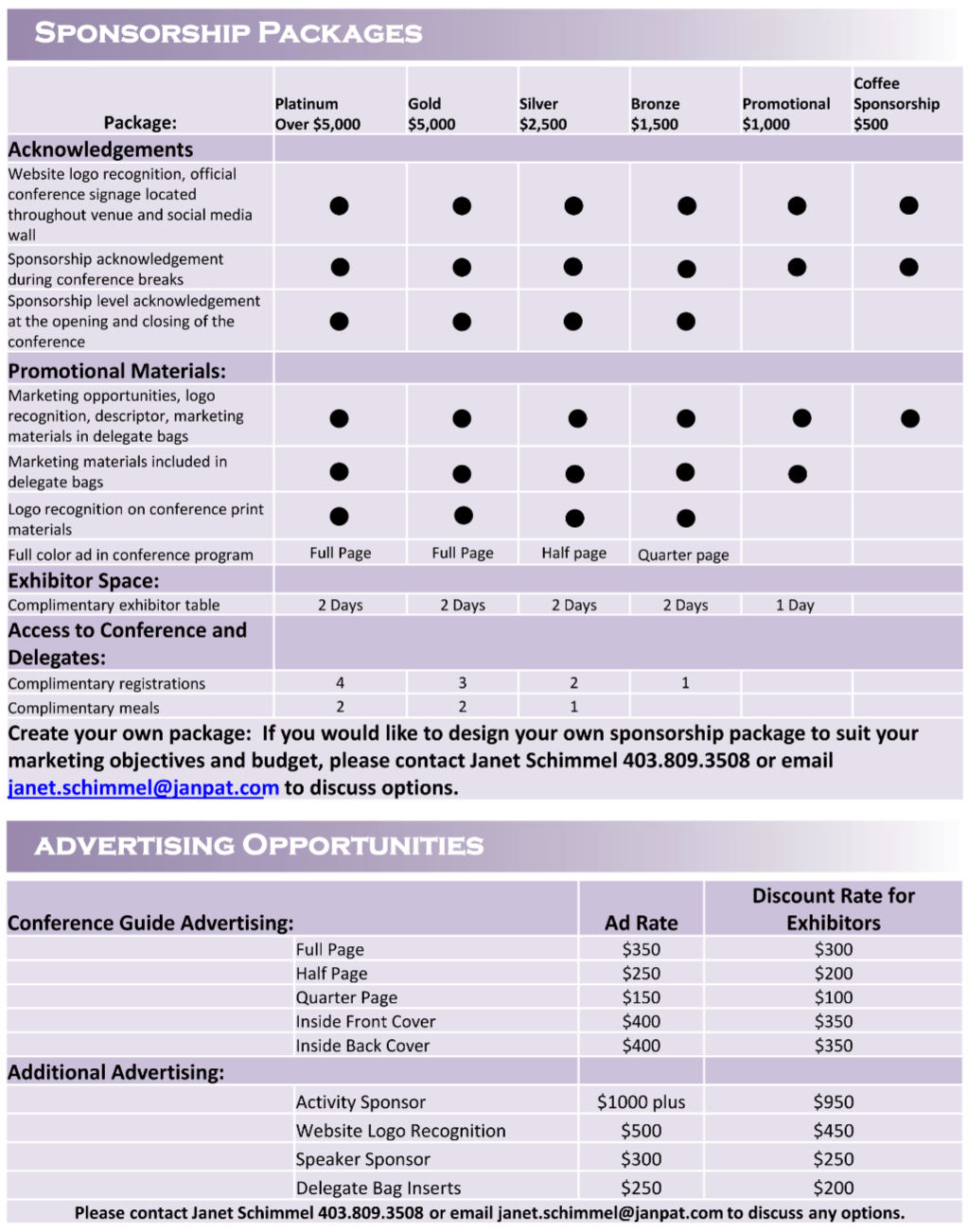 Download pdf AEAAC Face It: Sponsorship and Exhibitor Package